Welcome To Rockville

is an all ages event, patrons of any age require a pass for entry.

All pass sales are final, no refunds or exchanges.

All price levels are available in limited quantities. Buy early to save the most money.  Once an allotment is sold out, passes will be available at the next price level.  There is no difference in access between the levels.

Your pass will come in the form of an RFID Festival Wristband.

Festival a

dmission

, c

amping

and parking

are sold separately. 

We recommend you purchase directly via our

PASS PAGE

, we are not responsible for any purchases made through unofficial or secondary sites.

The resale of passes at a higher price point is prohibited, and if discovered, will result in the pass being voided without refund.

Passes may not be used for advertising, promotion

(including

contests and sweepstakes), or other trade purposes without the express written consent of the festival. 
How can I update my shipping address or billing info?
Shipping address can be updated at any time, up until the label for your package has been printed, if you purchased through Front Gate Tickets. Please log into your Front Gate account HERE by hitting "sign in" at the top of the page! From there, you'll be able to view and manage your order. 
I have an issue with the passes I purchased. Who can help me with that?
The pass type I want is sold out. Will you release more passes?
You can always check back on our official fan-to-fan exchange program, Lyte, for fans selling their tickets, see here.
Can I purchase a meet and greet for bands playing the event?
No, we do not offer any sort of official meet and greet packages for our events.
Where can I buy passes in advance?
You can purchase tickets online via Front Gate Tickets. Please see our PASSES PAGE for full info. There are no physical outlets for walk-up sales in advance of the festival.
My friend and I purchased our passes the same day. They received their order, but I have not received mine yet. Should I be worried?
Not to worry! Passes are fulfilled and shipped in batches over several weeks. If your order is being shipped within the U.S., you will receive a tracking number once your pass has been mailed. Passes ship approximately five – six weeks before the festival.
When will I receive my passes?
All
wristbands
are shipped
five
–
six
weeks prior to the event.
U.S. Orders
Your passes will be mailed out to you. As each order is fulfilled, an email will be sent with a tracking number. Emails will come from
noreply@frontgatetickets.com
and sometimes end up in spam folders, we advise checking there as well as adding this email to your safe-sender list. For those who purchased passes after the deadline, please bring your order confirmation and government-issued photo ID to the Box Office to
receive
your wristband.
If you have questions about receiving your order, shipping address, tracking info, etc. please
email us at
info@welcometorockville.com
.
International Orders
All international orders
(including
Canadian orders) will be available for pick up at the Box Office. Please bring your order confirmation and government-issued photo ID.
Can someone else pick up my passes at will call?
Yes, someone other than the original purchaser can pick up the wristbands. However, they will need to bring the original order confirmation email, a copy of the original purchaser's government-issued photo ID, and written consent from the original purchaser stating they can pick up the wristbands.
What type of id is accepted at the box office?
The box office will accept a State-issued Driver's license, a government-issued Non-Driver ID Card, Military ID, or Passport. Please make sure to have one of these forms of ID with you!
Can I get a refund on my passes?
No. We do not offer refunds or exchanges on pass sales. All artists and scheduled performance times are subject to change. The festival is outdoors and is held rain or shine.
What happens if I default on my layaway?
If you miss your payment, you will have up to a 30-day grace period to pay your next installment before your order is subject to cancellation and a non-refundable $100 fee +  $10 termination fee.
Can I upgrade my single day to weekend or GA to VIP?
You can upgrade on site at any Box Office location, if there is availability as quantities are limited. You can also email us at info@welcometorockville.com for support ahead of the festival if you wish to upgrade sooner.
Can I split my weekend pass up to different people every day?
No, your pass is an RFID wristband and a weekend pass is not transferable across multiple attendees.
When/where will the box office be open onsite?
There are two Box Office locations at the festival just outside each festival entrance. Each Box Office can provide the same assistance so you don't have to worry which direction you arrive from. There will also be a Box Office at the Campground toll booths and a Customer Service tent at the Campground entrance into the festival. Hours of operation will be available closer to the event. 
When will my pre-order merch be shipped?
Pre-order merchandise will be shipped separately from festival passes, no later than two weeks prior to the festival. You will receive an email with tracking information as soon as your merchandise package has shipped. 
When a show is not currently on sale (ex: pre-sale or a sold out pass type or show), items may be listed on a waitlist to offer festival or camping passes that aren't available to the public. Due to high demand and limited availability, pricing will be dynamic and is subject to change.
Do all passes have a waitlist?
No, not every pass will offer a waitlist, due to availability. 
How do I sign up for the waitlist?
While viewing the Welcome To Rockville shopping cart, log in to your Front Gate Tickets account
HERE
. Click on the
"YOUR
ACCOUNT" tab at the top of the page. If a waitlist is available for the event you are interested in, you will see
"WAITLIST"
in your account options.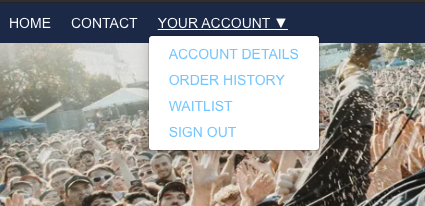 Once you click WAITLIST, you will see a list of pass options available to request.  
(The passes and prices listed below are hypothetical)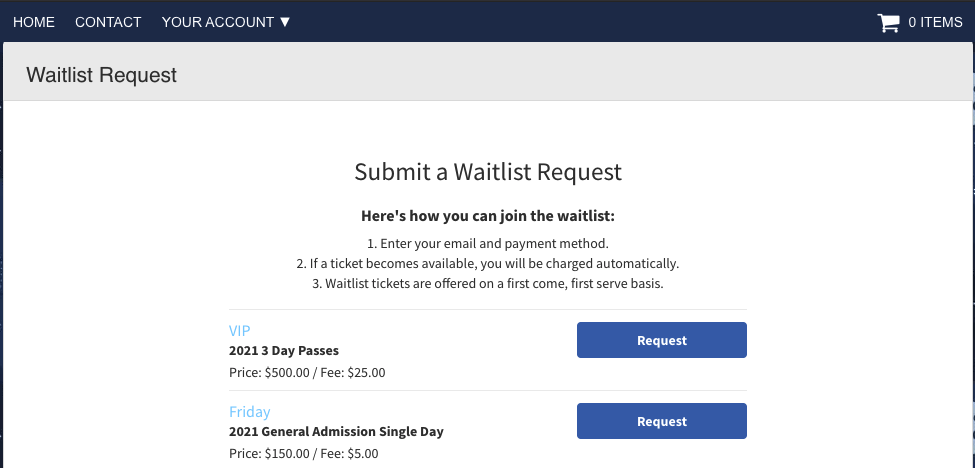 Select your desired pass and click
"Request."
The following prompt should pop up. If you don't see anything, make sure you have pop-ups enabled.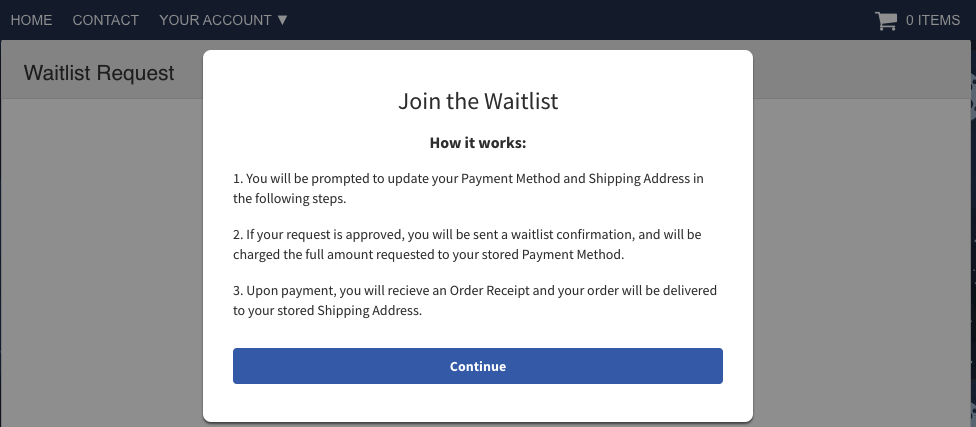 You will be prompted to update your Payment Method and Shipping Address in the following steps. Once your request is submitted, you will receive an email confirmation summarizing your request.  
Please note there is no way to estimate how long it will take to be next in line. There is no guarantee that you will receive an offer to purchase waitlist passes. If passes become available to purchase and your request is approved, you will be sent a waitlist confirmation. Please review this confirmation to ensure that your information is still correct. Unless you opt out of your request by the date listed in your email confirmation, you will then be charged the full amount requested to your stored Payment Method. 
*Please review your stored payment method. Since only one payment method can be saved to your Front Gate account at a time, any layaway purchases made for an FGT event might have overwritten the payment method you entered at the time of the request. Upon payment, you will receive an Order Receipt and your order will be delivered to your stored Shipping Address if the purchase was made during the event's shipping timeline.
Am I guaranteed a pass if I'm on the waitlist?
No. Signing up for the waitlist grabs a spot in line but does not guarantee that passes will be available at a later date.
Can I request more than one type of pass?
You can only sign up for one type of pass at a time. For example, you can sign up for two VIP Weekend passes, but you cannot sign up for a VIP Weekend pass and a GA Weekend pass.
To request an additional ticket type, you would have to cancel your current request OR wait until your current request is offered, purchased, and completed.
Is there a layaway plan for waitlist passes?
Currently, layaway is not available for waitlist passes. You will be charged full price at time of purchase. 
Once I'm on the waitlist, when will waitlist passes be offered?
Waitlist passes will be released as they become available. You will receive the waitlist offer when your turn comes up, should they become available. You are not guaranteed an offer to purchase tickets.
Will waitlist passes be mailed to me or will they be placed at will call?
Waitlist passes will ship if they were purchased before the shipping cutoff. If your tickets are purchased too late to ship for your event, they can be picked up at the box office / will call window with a photo ID.
How do I access my waitlist requests in my front gate tickets account?
Log into your Front Gate Tickets account. Click on
"YOUR
ACCOUNT" at the top of the page. Then select
"WAITLIST."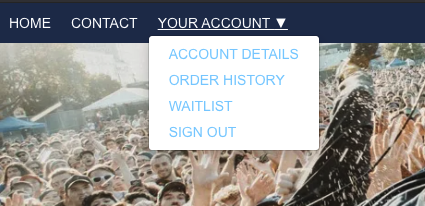 Can I cancel my waitlist if I change my mind?
Yes, you can cancel your request at any time by logging into your Front Gate Tickets account then selecting
"Waitlist"
under the
"Your
Account" tab. 
Under your request confirmation, you will see a
"Cancel
Request" button. Please be sure you wish to cancel your request before doing so. Cancelling your request cannot be undone. Pricing and availability of waitlist items may vary if you decide to opt back in at a later time.  
Once you've canceled your request, you will receive an email confirmation of the cancellation, and you will no longer see this request in your account.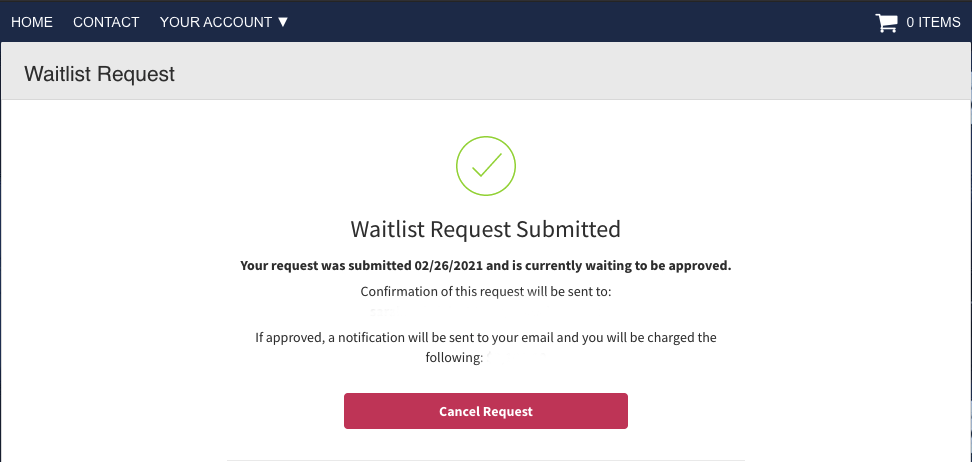 Can I update my payment method after I make the request?
Yes, you can update your request at any time by logging into your Front Gate Tickets account and selecting
"Waitlist"
under the
"My
Account" tab.